Tensioned Outdoor Blinds
Tensioned Vertical Straight Drop Awning – With Gear Box and Handle is the most versatile vertical straight drop awning product in our range. With so many options and accessories it allows you to create your own unique awning to suit your personal needs.
Choose from the three different lock down options – strap and buckles, stainless steel clips, or the popular stainless steel wire guide for a taut and supported look.
Hooding can be added to both protect the fabric and improve aesthetics and is available in a range of colours including black, white, primrose, cream and slate grey. The new Flair cassette is considered the premium and features both a sleek contemporary look and range of colours.
The Proof Is In Our Reviews

Flair Cassette
Blind Elegance is excited to announce the release of a modern and sleek cassette specially designed for use on vertical awning products. This new cassette is highly flexible due to both its wide range of standard colours and multiple fixing options upon installation.
The colour range has been selected to overlap popular Colourbond colours, with the addition of some new contemporary colours. Blind Elegance new Flair Cassette is ideal for the Tensioned Vertical Drop Series and also the Zip Trak System, adding a refined curved shape to replace cumbersome alternatives. This Flair Cassette combined with our new vertical awning motor will certainly provide a competitive advantage.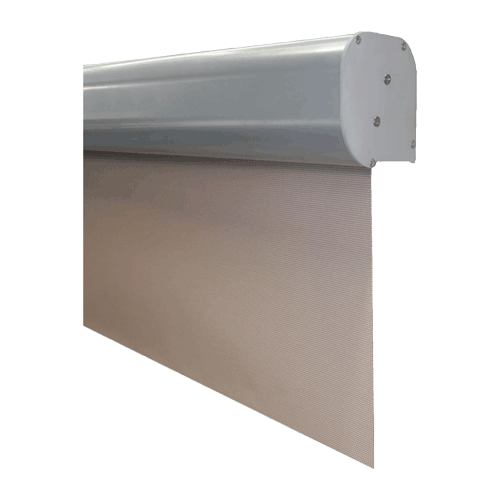 Motorisation
Motorisation is quite a simple addition to our range of awnings AND affordable!  The motor is slim and sleek and fitted inside the top tube so there are no unsightly boxes or electrical cables to be concerned with. From Home Motorisation, RTS technology, TRS Wall Switch, Hard Wire and Sun/Wind Sensors – the options are endless. Just ask one of our friendly staff for more information about Motorisation. We can even arrange one of our select Electricians to offer you advice, opinion and a quote.
Lock Down Systems
Selecting your lock down system for any straight drop awning has never been made easier. From our basic range of Galvanised Steel Bottom Rail In Pocket or upgraded to our range of Premium Tear Drop Bottom Rail your choices include strap and buckle lock down or stainless steel lock down.
ASK about our popular Stainless Steel Wire Guide option.
Type
Tensioned Straight Drop Vertical Awning
Maximum Width
up to 4.8m
Maximum Height
up to 3.5m
Warranty
5 years fabric and components
Gal. steel bottom rail
(in fabric pocket)
Strap and buckle lockdown
Stainless steel clip lockdown
Stainless steel wire guide
Premium teardrop bottom rail
Strap and buckle lockdown
Stainless steel clip lockdown
Stainless steel wire guide
Side Channels Option
with slide lock bottom rail
Awning fabrics
Can be made with a variety of materials
Please call us for more details
Outdoor Blinds Customer Satisfaction Guarantee
We take tremendous pride in our customer service and actively encourage our customers to let us know how their new outdoor blinds are performing as we genuinely care about the results they are getting.
We are extremely proud of the fact that over 80 percent of the orders we receive are from friends, family, and neighbours.