Sydney's  Favourite  Supplier  of  Retractable  Awnings

Retractable awnings
Retractable awnings let owners control the weather on their own terms. When passing showers threaten, or when the sun gets too hot, they or the system's sensors unroll the awning for near-instant protection and shade.
Because awnings prevent the sun from shining through windows and sliding glass doors, they can keep temperatures inside the house cooler, can help prevent carpets and furniture from fading in sunlight and provide a sheltered place for children and pets to play, shielded from direct sun.
A retractable awning can do all this without the need for poles or floor support, maximising full use of the space.
Retractable awnings are fixed to an existing structure and project outwards up to a maximum of 4.1m. The maximum width of a retractable awning is 12m.
The retractable awning can be operated by a manual crank or can be motorised for weather protection at the press of a button.
Components
The Blind Elegance retractable awning fits snug against a wall or between posts so that it blends seamlessly with the overall appearance of you home. Features of the design include;
Fully enclosed cassette that is designed to be self supporting

Front profile with integral rain gutter

Rust-free pins

Teflon coated bearings

Stainless steel screws

Awning arms fabricated from high-strength aluminium alloy
The combination of quality, durable parts and Blind Elegance's experienced and professional installers means a sensational result every time.
The Proof Is In Our Reviews

Fabrics
Blind Elegance retractable awnings use only the best of fabrics to protect you, your family and your home from the harsh Australian sun. We manufacture our awnings using Ricky Richards dupont teflon coated fabric, a favourite with designers.
Our fabrics are U.V. resistant, water resistant and mildew resistant and can aid in the reduction of solar glare, in most cases up to 90%, naturally creating a cool and comfortable space for you and your family to enjoy.
Other than being functional, the fabrics used are also stylish and durable and available in a multitude of colours. Our mobile showroom has our full range of colours available for you to see and feel.
Operation
Blind Elegance retractable awnings are operated by remote control – 1 push of a button and you can control sun rain and glare without getting out of your seat. The awning can fully project in under 45 seconds and does so almost silently.
Manual operation, via crank and pole are available to the budget conscious as an option to reduce cost.
Our retractable awnings have a pitch set at 12°, a standard set by the manufacturer to allow adequate water run off and drainage, so your awning doesn't bend and bow under the weight of water.
Motorisation and sensors
Blind Elegance retractable awnings are powered by Becker™ motors
External Awnings or Blinds are the most effective form of window covering to reduce heat in the home during summer. Most of the heat generated in a home or office building is due to the sun's rays hitting the glass. Once the sun hits a glass window and heats it up, there is very little you can do to cool it down. The heat generated here will then enter the home or office building exacerbating the temperature inside. Once this has happened the only way to cool the building down is to use coolers, such as air conditioners, significantly increasing electricity costs.
There are many fabric types and styles available to suit your own taste and style as well as many different types of awnings to suit your home and your own individual needs. All offer protection from the sun and some will also extend your outside living areas providing shade for you should you wish to sit outside.
Automation of these awnings increases the likelihood of you benefiting from the sun protection aspects as the awning can come down automatically as required, depending on the conditions of the day. Wind sensors also help extend the life of your external blinds as they will put them safely away should the wind levels increase during the day.
Fixing methods & Warranty
One of the feature and benefits of our awnings is that they can be fixed to a roof tile, a wall or ceiling rafter mounted. Our retractable awnings coming with a 5 Year factory warranty.
Retractable Awnings Product Range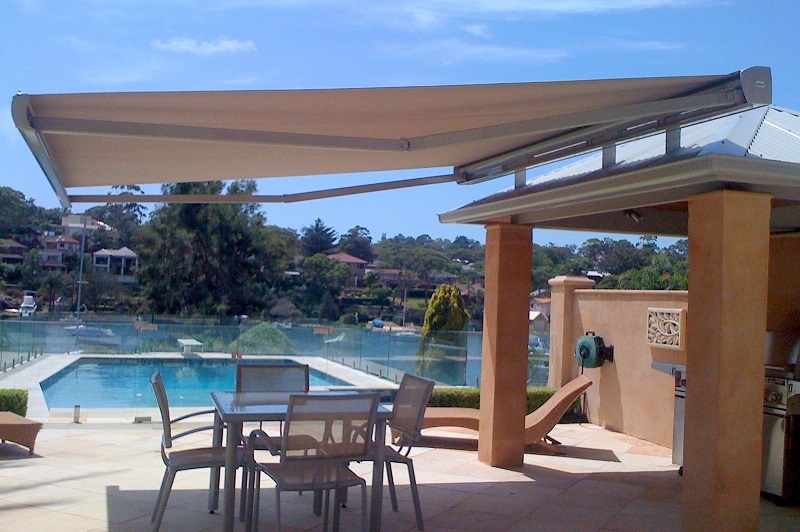 Full Cassette Retractable Awning (The Millennium)
Our best selling retractable awning is the perfect shade solution for your property, offering superior UV protection from the sun and cover from light rain when installed with a slight pitch. The full cassette design protects the awning from the harsh Australian weather while it is retracted, and a built in rain gutter protects it from water build up. It can be wall mounted, or to provide extra head room it can also be roof mounted. Optional extras: Motorisation and remote control, variable pitch, wind, sun and motion sensors and storm pole support legs.
Features & benefits:
Best Selling Retractable Awning
Sophisticated European Design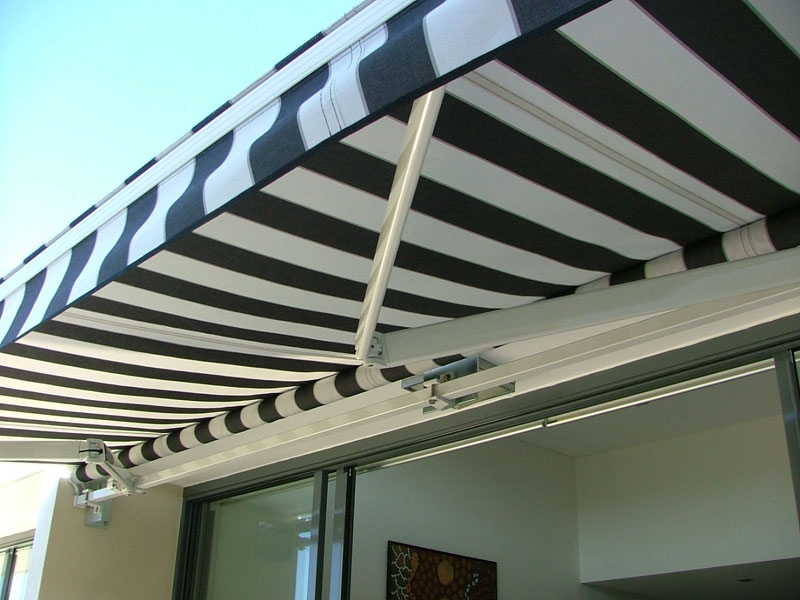 Open Roll Retractable Awning (The Titan)
Our entry level retractable awning is perfect if you are on a tighter budget, however it is still built to our high standards and design specifications. It is highly versatile and can be installed with a motor or operated using a hand crank. Optional extras: Motorisation and remote control, variable pitch, protective case, wind, sun and motion sensors and storm pole support legs.
Features & benefits: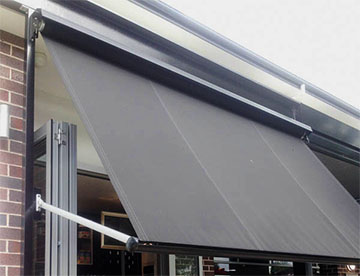 Pivot Arm Awnings
Our Pivot Arm Awning gives you the protection of a fixed awning, but with the flexibility of a retractable awning.
whenever you wish and to the degree that you choose. The compressed spring arms allow you to easily adjust the awning to multiple angles allowing create the level of shade or privacy that you need. Our pivot arm awnings are also designed to withstand high winds and adverse weather conditions. Optional extras: Motorisation, remote control and wind sensor.
Features & benefits:
Sophisticated European Design
Outdoor Blinds Customer Satisfaction Guarantee
We take tremendous pride in our customer service and actively encourage our customers to let us know how their new outdoor blinds are performing as we genuinely care about the results they are getting.
We are extremely proud of the fact that over 80 percent of the orders we receive are from friends, family, and neighbours.