Folding Arm Awnings – Sydney
Folding Arm Awnings Give Flexibility Over The Weather
Without the expense of having to engineer for all wind events, Folding Arm Awnings are an excellent option for protecting your outdoor dining space. They look great, pack away tidily, and block sun and light rain when required. Folding Arm Awnings will also protect an indoor room by blocking the sun from falling directly on glass. We even supply a variable pitch awning that can be tilted to suit the sun for that season!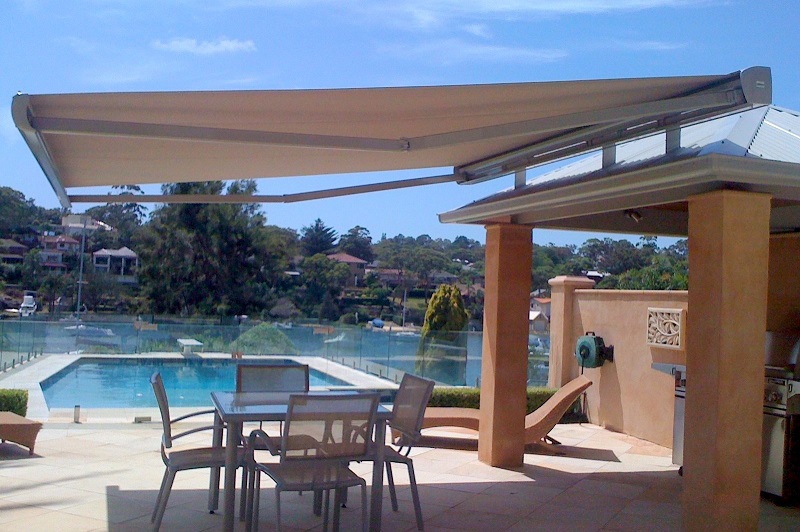 Benefits of Custom Made Awnings
Give your patio or balcony a modern look
Shelter and shade from the sun and outdoors
Retractable – manual or motorised option
Sturdy arm brackets – performs every time
Great Value
Factory direct, so you save big on top quality products. Wholesale prices, direct to customer.
Quality Assured
We only supply the highest quality.
Extensive Range
Sydney's most extensive range of products.
Folding Arm Awnings
All our Folding Arm Awnings come with a manual mechanism, but can be motorised and even controlled automatically or remotely! They are available in a range of colour options. We can help you choose which of the protective cassette options are best for you based on the following:
Your budget,
The structure that the awning will be fitted on to
The style and design that you're searching for, .
Available in acrylic, or waterproof translucent fabric, in a rainbow of designer modern colours, stripes and patterns. There is a style to suit you, and compliments any outdoor living area.
Folding Arm Awnings – extend your living area – expand the possibilities.
Our Range of Folding Arm Awnings
[et_pb_shop admin_label="Shop" type="product_category" include_categories="folding-arm-awnings" columns_number="4″ orderby="menu_order" title_font="|on|||" title_font_size="18″ /]
Outdoor Blinds Customer Satisfaction Guarantee
We take tremendous pride in our customer service and actively encourage our customers to let us know how their new outdoor blinds are performing as we genuinely care about the results they are getting.
We are extremely proud of the fact that over 80 percent of the orders we receive are from friends, family, and neighbours.