Sydney's  Favourite  Supplier  of  Retractable  Awnings

Our retractable awnings are the perfect solution to provide variable levels of shade for your outdoor space, without obstructing your view.
Our complete range of elegant retractable awnings can be used to keep your home cool and substantially reduce air conditioning costs, as well as protect your guests from the harsh Australian sun by providing shade for your patio or outdoor entertaining area.
Choose from our exclusive range of Australian and European inspired and designed awning fabrics, including solid colours, textured designs and striped patterns – there is an awning fabric to suit everyone's needs. Our fabrics are specifically designed for outdoor use, colour fastened, scotch guarded and treated to prevent dirt build up, mildew and mould.
Benefits of our retractable awnings:
Excellent variable shade solution
Great range of fabrics
Protection from light rain (when installed with a slight pitch)
Reduces your air conditioning costs
Provides shade without obscuring your view
Protects your floor covering and outdoor furniture from fading
Adds value to your property
Creates a stunning 'outdoor room'
Retractable Awnings Product Range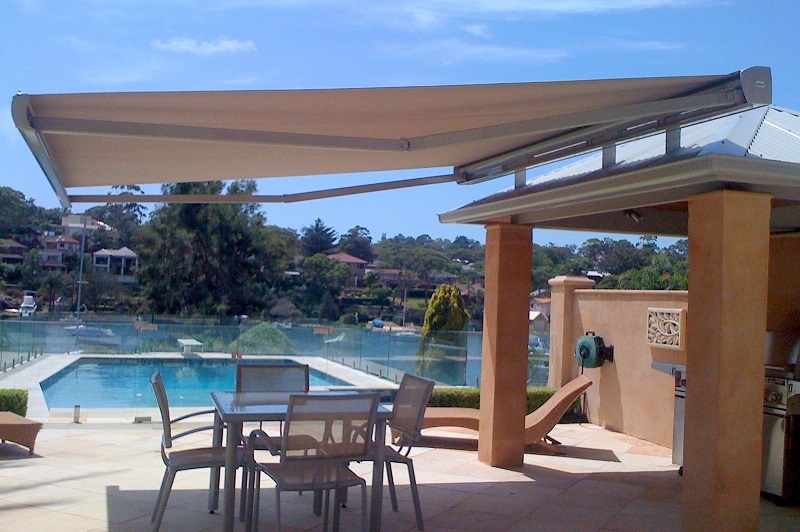 Full Cassette Retractable Awning (The Millennium)
Our best selling retractable awning is the perfect shade solution for your property, offering superior UV protection from the sun and cover from light rain when installed with a slight pitch. Its contemporary, European style design will enhance the look of your home or business. The full cassette design protects the awning from the harsh Australian weather while it is retracted, and a built in rain gutter protects it from water build up. It can be wall mounted, or to provide extra head room it can also be roof mounted. A sophisticated folding arm awning mechanism combined with high spring tension helps keeps the awning fabric taut for a stunning look all year round.
Optional extras: Motorisation and remote control, variable pitch, wind, sun and motion sensors and storm pole support legs.
Features & benefits
Best Selling Retractable Awning
Sophisticated European Design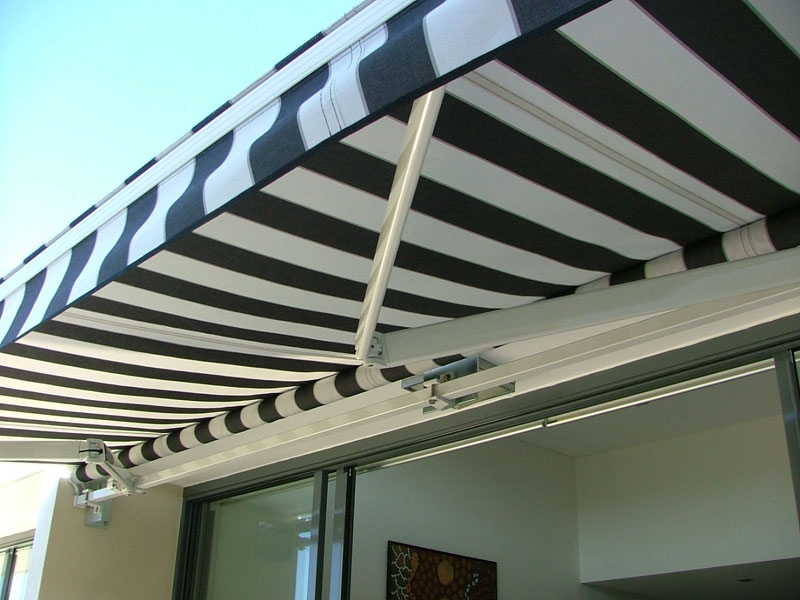 Open Roll Retractable Awning (The Titan)
Our entry level retractable awning is perfect if you are on a tighter budget, however it is still built to our high standards and design specifications. It is highly versatile and can be installed with a motor or operated using a hand crank. Optional extras: Motorisation and remote control, variable pitch, protective case, wind, sun and motion sensors and storm pole support legs.
Features & benefits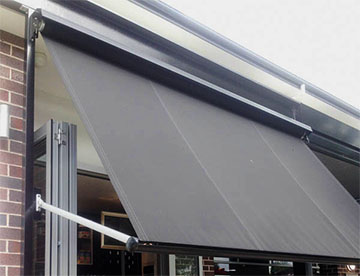 Pivot Arm Awnings
Our Pivot Arm Awning gives you the protection of a fixed awning, but with the flexibility of a retractable awning.
whenever you wish and to the degree that you choose.
The compressed spring arms allow you to easily adjust the awning to multiple angles allowing create the level of shade or privacy that you need. Our pivot arm awnings are also designed to withstand high winds and adverse weather conditions.
Optional extras: Motorisation, remote control and wind sensor.
Features & benefits
Sophisticated European Design
Blind Elegance made it easy to do business with and we got good results.
Maggie Frazier
We loved the fact that Blind Elegance are local and very responsive.
Mr and Mrs Duckett
Get a further 15% off our already competitive retractable awning prices by contacting us online today